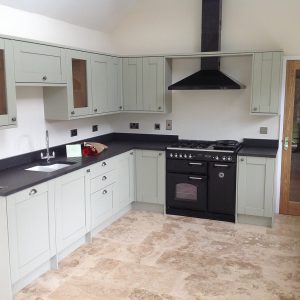 Walnut Cottage is a new build construction, utilising contemporary design features whilst maintaining a local vernacular style.
The building contains some non-conventional components which enhance the overall architectural quality.
The property contains a basement with access onto a small patio garden and steps which lead up to the main garden. This feature essentially creates a whole additional floor which is not visible from the road, and as such does not impede on the scale of the property when compared to the surrounding neighbours.
The material finish remains conservative, however our expert application of render, combined with a lead dormer give the property a contemporary feel.
Testimonial
"In early 2012, our impression of any new housing being developed was that individuals, couples and families were, in fact, being propelled at great speed towards living in a legoland state, the same repetitive, poor quality designs, showing a lack of individuality or imagination.
Fortunately, Matthews Construction dispelled this belief, restoring our faith and completely altering our view. Furthermore, it was made inconceivably possible that a 'new build' could be for us, a family that had previously only considered purchasing a period property.
On our initial trip to Fladbury Village, we could not fail to notice how both old and modern dwellings could integrate effectively together, and this was demonstrated further by the sympathetic design and position of our Matthews Construction home. Throughout the build, we could not fail to see the attention to detail, craftsmanship and originality. The imaginative way the old was replicated by the new is truly amazing, without any drafts, maintenance costs or cobwebs. Fantastic!
We can only congratulate Jenny, Chris, Chris, Rob and their team for delivering our outstanding property within our budget and within the mutually agreed time period. We would like to express our gratitude for the team's involvement, professionalism, tolerance of our incredibly fussy behaviour and the exemplary after care service. Nothing was too much trouble and working with the team was a pleasure.
We would have no hesitation in recommending either Matthews Construction or one of their properties. Enjoy!."
---